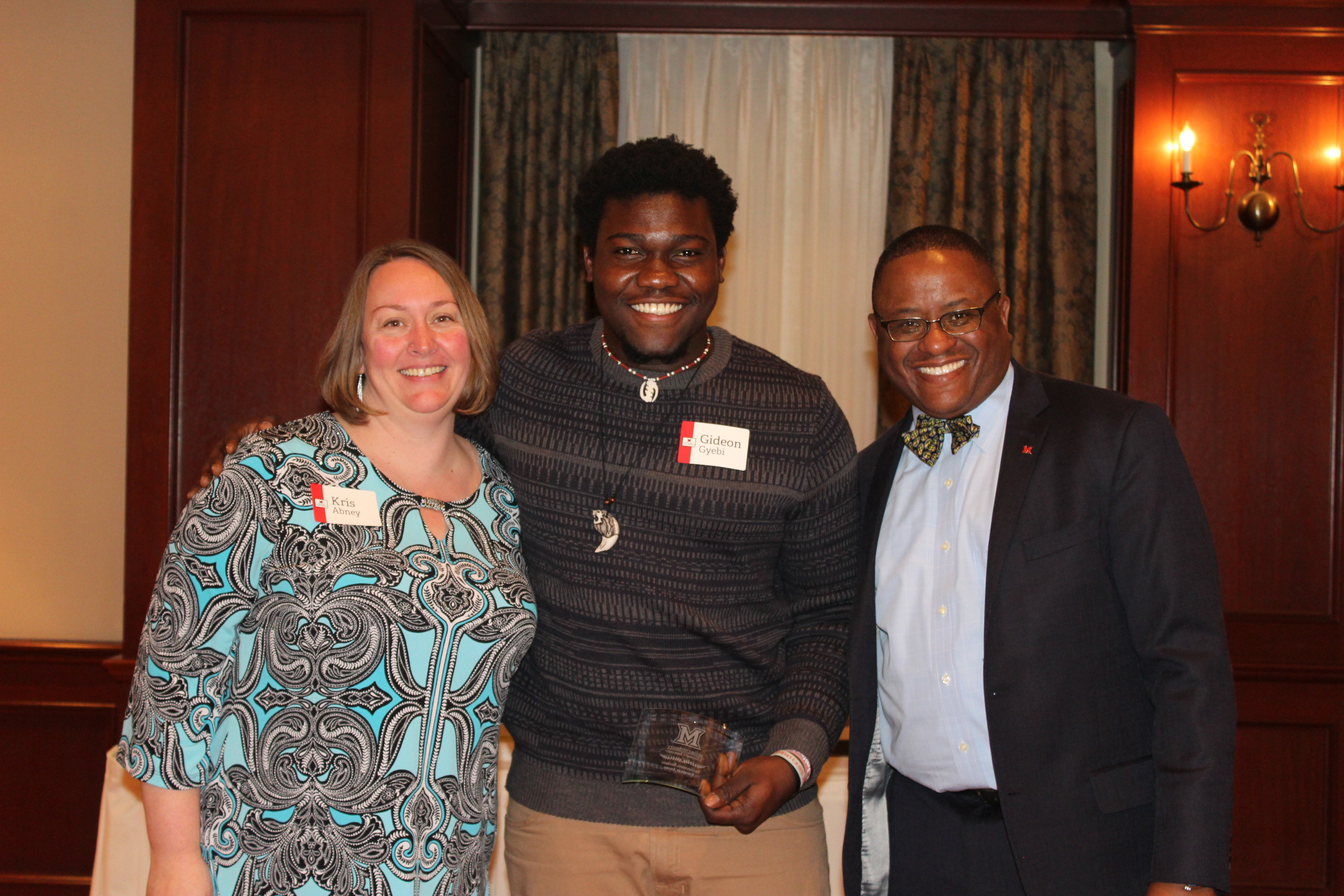 University Libraries honor 37 senior student employees
By Vince Frieden, strategic communications coordinator, University Libraries
Senior Gideon Gyebi, one of 37 graduating Miami University Libraries student employees recognized at Sunday's Libraries Student Recognition Dinner, has been named the 2017 University Libraries Outstanding Student Employee of the Year.
Gyebi, a health promotion major from Cincinnati, received the honor from Jerome Conley, dean and university librarian, and Kristina Abney, Libraries manager of access and circulation. He spent the past two years working at King Library's circulation desk, and, in the nomination, Abney cited Gyebi for his high level of customer service.
"He is so helpful and friendly to library patrons that his fellow student workers have commended him," Abney said. "He is a super friendly, model student worker whose approach to every single patron is to go above and beyond. Gideon's the embodiment of what I think about when I think "library service."
The Outstanding Student Worker of the Year award and Libraries Student Recognition Dinner launched last year as a way of thanking and recognizing the University Libraries' senior student employees. Across four campus locations, the University Libraries currently employ 115 student workers.
"From the unseen operations that allow our resources to arrive in the right places at the right times to those students who directly support patrons, our student employees are an extension of the high level of service we strive to provide within the University Libraries," Conley said. "They are very much a part of our Libraries family, and we could not do what we do without their hard work and the pride they take in their roles."
Also honored during the night were four honorees for the Libraries Award for Undergraduate Research Excellence and the five founding and graduating members of the Libraries Student Advisory Council—Nicole Anselmo, Jeffrey Guggenheim, Mary Kate Kuchers, Bryan Roberson and Ryan Rugani.
The full listing of all University Libraries' student employees who will graduate in spring, summer or fall 2017 is as follows.
Esther Adu
Kinesiology/Nutrition
Kim Agyekum
Psychology
Audrey Borgert
Music Education
Mackenzie Clune
Journalism/Comparative Media Studies
Elisabeth Cordray
Special Education
Dustin Cruse
Mechanical Engineering
Nora Duckett
Software Engineering
Andres Durandeau
Economics/International Studies
Coartney Freeland
Music Performance
Joshua Futch
Information Systems/Business Analytics
Jayla Gentry
Biology
Katie Gliebe
Media and Culture
Gideon Gyebi
Health Promotion
Lauren Hutchison
Software Engineering
Jelani Johnson
Speech Pathology and Audiology
Mary Kate Kuchers
Strategic Communications/Interactive Media Studies
Henry Leaman
History
Katie Leveline
Integrative Studies
Shelby Mass
Music Performance
Adit Mehta
Marketing
Cori Mobley
English Literature
Ellen Molinaro
Nutrition
Nora Molinaro
Interactive Media Studies/Graphic Design
Mitch Ocran
Marketing
Cody Philips
Mathematics & Statistics/Analytics
Mitchell Poetter
Sports Leadership & Management (master's)
Anthony Rapp
Physics/Music
Zuryhel Rivera
Accountancy/Analytics
Ryan Rugani
Political Science
Kaitlyn (Katiebeth) Smith
Early Childhood Education
Callie Smith
History/Political Science
David Ternik
Mechanical Engineering/Physics
Kaylee Via
English Literature (master's)
Bradley Wells
Zoology/Geographic Information Science
Kristen Wolters
Music Education
Huibing (Amy) Yang
Accountancy
Kadeem Yorke
International Studies/Media and Culture