"The world as we have created it is a process of our thinking. It cannot be changed without changing our thinking."
-Albert Einstein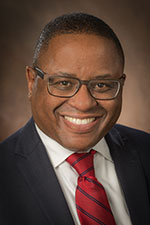 As a university library system, we are part of a much larger higher education ecosystem, and that ecosystem finds itself in a state of unprecedented disruption.

Before I go on, I'd like to take a moment to offer you my thoughts on recent issues on campus regarding race and the role we plays as a library system in welcoming and supporting our community. You can find that short message here.

Last month's university announcement about the Boldly Creative initiative recognizes that disruption and demonstrates an important step in responding to it. The ways we equip our students and the challenges for which we must prepare them have changed, and creativity and innovation are our greatest allies in realizing tomorrow's possibilities.

The Miami University Libraries certainly play a part in that. As President Crawford said during his first visit to our all-staff meeting in 2016, "The Libraries have to be the first to see the future … to anticipate the needs of our students and faculty when it comes to research and instruction."

As our university evolves and strives to be "Boldly Creative," we have an important responsibility. As our mission statement indicates, we connect our community to the resources and guidance that empower discovery, creation and success. We must align with the vision for our university while positioning and projecting ourselves as an invaluable partner in that effort.

We are responding to that strategically. Our master plan process challenged us to revisit our thinking and reinvigorate our organization. While we have made significant strides in the past year, the real difference-making work is just getting underway within our newly formed departments. I am excited by the energy as these conversations gain momentum.

Our response also is evident in our planning for the upcoming comprehensive campaign. Simply put, we cannot allow our vision to be limited by our resources.

In addition to our plans for a major King Library renovation, our campaign priorities seek to fuel continued advancement in technology, create endowments that help us retain and recruit talented staff, generate permanent funding that enhances the strength of our collections, and ensure financial support for the student employees who are critical to our success.

Above all, we need the talent, smarts and energies of every individual on our team.

We need great thinking to see the future and anticipate the resources that will be required – your ideas are not only welcome but needed! And we need the collective efforts of every member of our team to turn promising visions into difference-making realities.

Thank you for all the great work you do every day and for all you will do to shape our future and empower those students who will change the world around us.