"Our aspirations are bold, our ideas are big, our ambition is to lead. Such transformative thinking and leadership can be achieved only with the resources required to make it happen."
-President Greg Crawford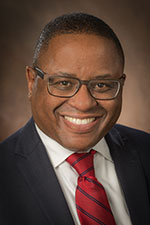 During President Greg Crawford's Oct. 26 State of the University Address, he spoke of bold aspirations and "the most aggressive [fundraising] campaign in Miami history."

His timing could not be better.

First, let me take a moment, as the holidays and finals week approach, to say how thankful I am for each of you. I am truly blessed to work with great colleagues toward such an important purpose, and I give thanks for that each day.

Over the past year, we have laid the groundwork for our future – a new vision for our services, our organization and our facility. Shaping and building on that foundation will require the collective thinking, energy and commitment of everyone in our University Libraries. It is also going to require significant financial support from our alumni and friends.

We have made notable strides in our fundraising efforts over the past five years, and it is imperative to our future that we sustain that momentum. Our efforts to identify, engage and steward our donors are evolving and growing, and we can ALL play a role in stoking the passion and commitment of our donors.

That does not mean you need to ask for money. But every time alumni and friends visit our libraries, we have the opportunity to make them feel welcome. Each time we encounter a donor at an event, we have an opportunity to share the story of today's University Libraries.

Last year, we offered an optional Development 101 course to provide a basic understanding of fundraising. This January, we will be offering a series of Development 201 courses that will explore related topics, including event soft skills, storytelling and more. We also plan to offer another session of Development 101 soon.

These courses are optional, but if you have an interest, I encourage you to take the opportunity. More information will come out soon.

Additionally, we need your help in identifying potential donors, particularly our former student workers. Over the past year, through collaboration with academic personnel and the alumni association, we have identified more than 1,700 former libraries student workers. Additional plans to survey and identify former student workers and form an official alumni group of our former student workers will launch this month.

We are also hoping some of our veteran staff can share the names of former student workers they remember from our past. Our interest is primarily in student workers prior to 1999, which predates the electronic records we were able to obtain through academic personnel. I encourage you to share any names you might have with Vince, so he can get them added to our list.

Thank you again for all that you have done and all you continue to do to make our University Libraries a source of support and success for our students.

Have a great November!
Jerome U. Conley
Dean & University Librarian