Compiled by Vince Frieden, strategic communications coordinator; and David Mulford, strategic communications specialist
Infographics by Heather Bennett, administrative assistant
The definition of a library has certainly changed in the 50 years since King Library first opened its doors, and that story is best told through the ways patrons use the Miami University Libraries and the items they most check out.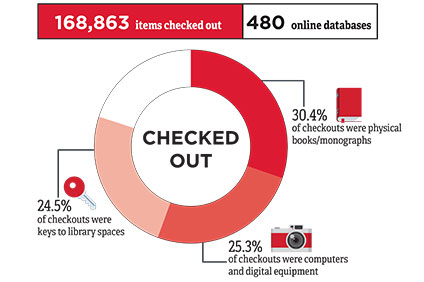 While libraries were once considered a repository for books, today's University Libraries are used almost as much for their technology and spaces.
168,863 items were checked out from Miami Libraries' Oxford locations in 2016;
30.4% of checkouts were physical books/monographs;
25.3% of checkouts were computers and digital equipment;
24.5% of checkouts were keys to library study and group project rooms;
480 online databases are available through the University Libraries to Miami students studying 24/7, anywhere in the world, covering subjects ranging from the hard sciences to poetry and including the archives of a number of major newspapers.


What were the most checked out titles for 2016?
Book: Cat's Cradle by Kurt Vonnegut
DVD: Beauty and the Beast
CD: Pierre Boulez conducting Petrushka
Graphic Novel: Batman: The Killing Joke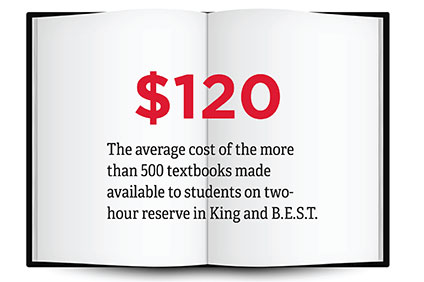 Textbooks now rank among the most checked out physical books.
5% of all Oxford campus checkouts, including spaces and technology, are textbooks on reserve;
$120 – The average cost of the more than 500 textbooks made available to students on two-hour reserve in King and B.E.S.T. Libraries;
International Accounting (ACC 321), the Libraries' most reserved textbook, was checked out 1,032 times in 2016.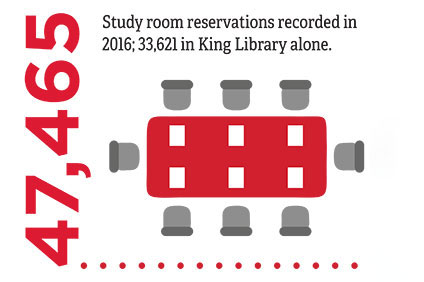 The Libraries study and group project rooms remain in high demand.
47,465 study room reservations were recorded in 2016, 33,621 in King Library alone;
King 104, which includes a flat screen monitor and a whiteboard, was the most checked out study room in 2016, with 1,383 reservations.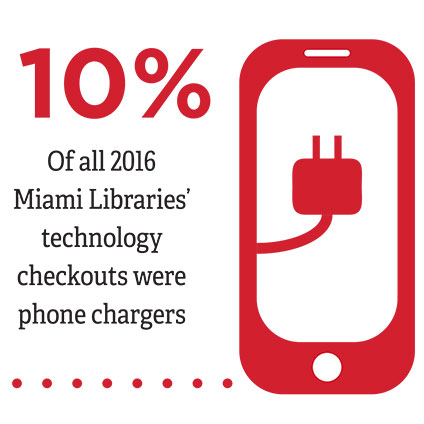 The use of libraries technology continues to surge, with the libraries offering everything from 3D printing and podcast recording studios to phone charger cords.
24% of all technology checkouts were Mac charging cables;
Macs were also the most checked out laptops, accounting for 14% of tech checkouts;
Phone giving you the low battery warning? No problem. 10% of all technology checkouts in 2016 were phone chargers;
12,936 Miami unique users logged into a Libraries computer in 2016, with 70% using a libraries computer on multiple occasions;
229 3D print jobs were completed via the Miami Libraries' three 3D printers in 2016, equating to more than 23 kilograms of printed material. B.E.S.T. Library brings two additional 3D printers online in 2017.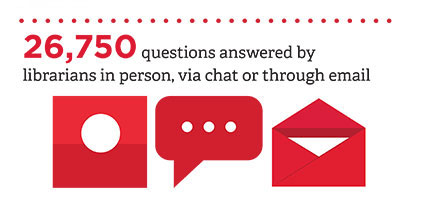 Today's librarians are known not only for guiding students to resources and answers but also as creators of online content and instructors in the classroom.
446 course sessions and workshops were instructed by librarians in 2016, reaching 10,608 students and faculty;
13 credit hours were taught to 262 students with librarians serving as the lead instructors;
26,750 questions were answered by librarians in person, via chat or through email;
40,362 visits were recorded to the 77 online subject and course guides created by Miami librarians, which provide suggestions and quick links to subject-specific resources.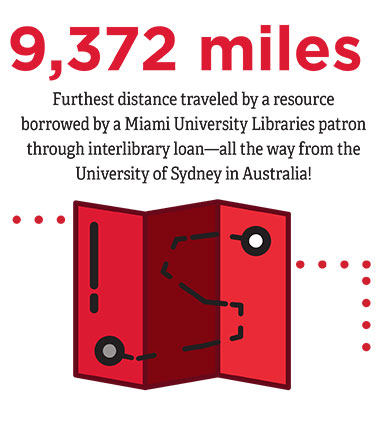 The Miami Libraries rely on an extensive network of Ohio libraries and libraries internationally to ensure students and faculty have access to the resources they need.
96% – The percentage of student and faculty requests for materials not owned by the University Libraries that were able to be met through OhioLINK, Interlibrary Loan or other partners;
9,372 miles – The furthest distance traveled by a resource borrowed by a Miami patron through interlibrary loan—all the way from the University of Sydney in Australia.
9,426 – Books checked out through OhioLINK by the University Libraries;
2.39 days – The average time it took to fill a request for materials housed outside the University Libraries, including weekends.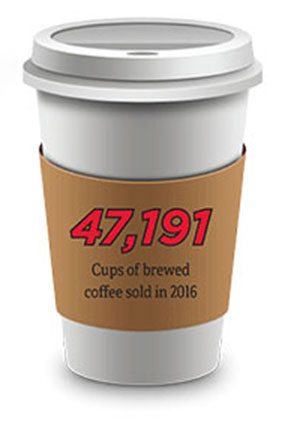 Until 2006, food and beverages were prohibited from the Miami Libraries, except in designated areas. With the arrival of King Café a decade ago, all of that changed. And our patrons are certainly well caffeinated.
47,191 cups of brewed coffee sold in 2016;
28,878 espresso drinks sold in 2016;
9% increase in brewed coffee sold over 2015.