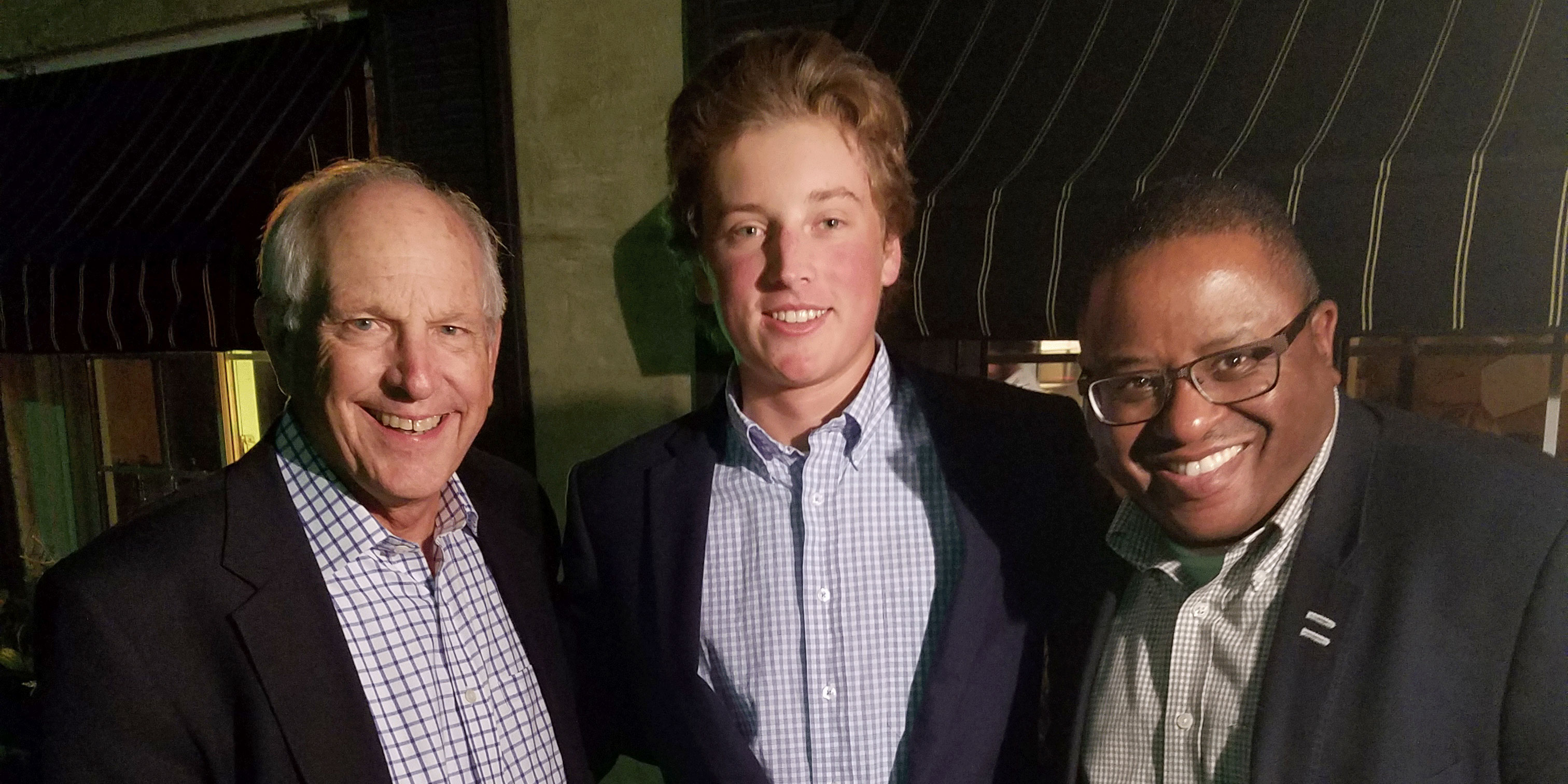 From left Dr. David Hill, grandson Clayton Kincaid and Dean Jerome Conley.
Dr. David Hill '62 recognizes the indelible impression that libraries have left on his life, and he believes passionately in their ability to shape the future.
Dr. Hill, whose generosity has named two valued spaces within King Library, is an Oxford, Ohio, native whose earliest memories include attending Saturday morning reading programs hosted by Miami University students in the old Alumni Library. The son of the late Eldon. C. Hill, who spent 34 years at Miami before retiring as a professor of English, he grew up on Miami's campus, attending McGuffey Laboratory School through his first year of high school. David graduated from Miami University in 1962.
"The truth is, I probably used the campus library more when I was in grade school and high school than when I was in college," Dr. Hill recalled. "We had a small library at the McGuffey School, but we would use Alumni Library for more extensive research, and I got a lot of help on my projects from the Miami Library and its staff.
Dr. Hill learned the value of libraries from his father who spent a great deal of time at the library as a place of study and research while an English Professor at Miami.
"The value and comfort I learned to associate with the use of libraries carried through my time as an undergraduate at Miami and during my years at Yale Medical School, where The Sterling Medical Library is at the center of the medical campus," Dr. Hill said.
After graduating from medical school, Dr. Hill worked as a Research Fellow at the National Institute of Health in The Laboratory of Viral Diseases before choosing to become an ophthalmologist. He completed his ophthalmology training in Boston at the Massachusetts Eye and Ear Infirmary of the Harvard Medical Center. He has practiced as a founding partner of Consulting Ophthalmologists, P.C in Hartford Connecticut since 1973.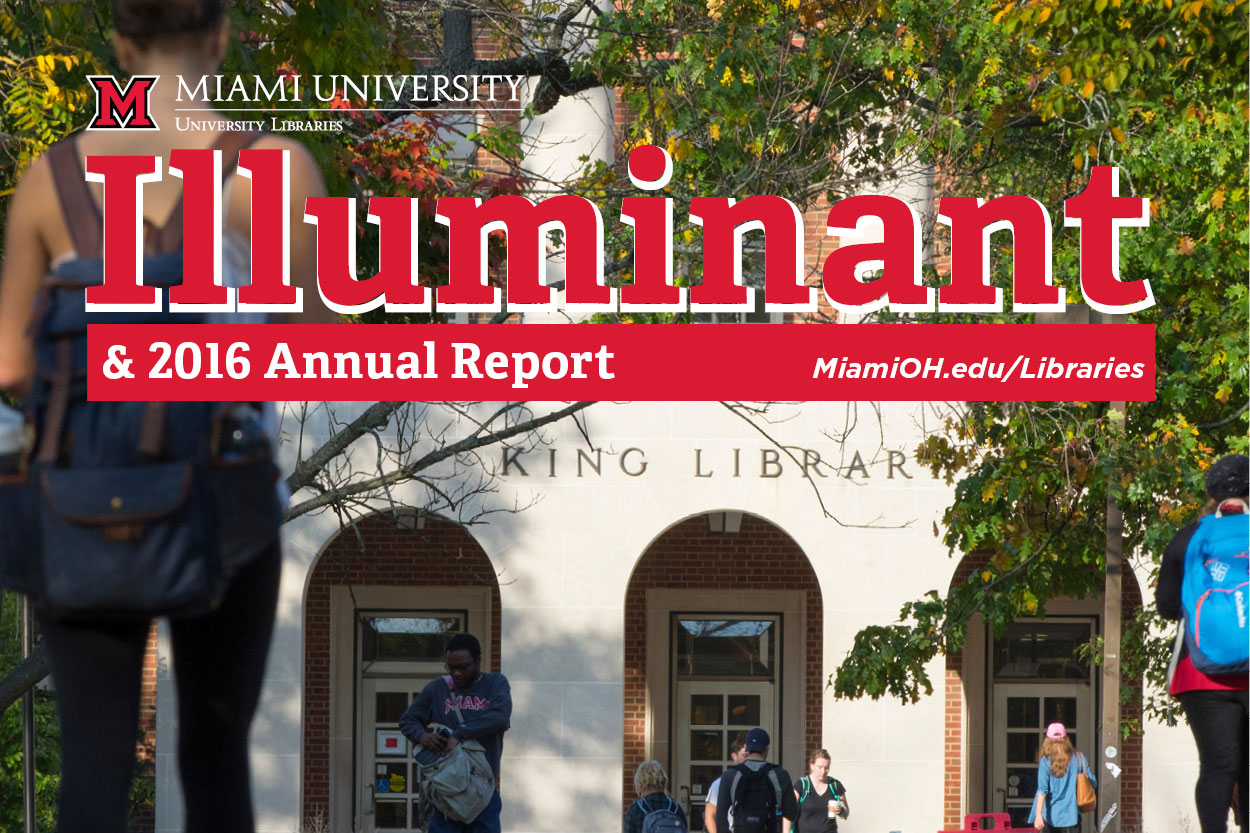 His first significant gift to the library was naming the Eldon and Mary Hill Faculty Reading Room in honor of his parents. He later honored his late wife, Gretchen by naming the Gretchen Hill Children's Literature Reading Area.
"I sponsored a faculty space because of all the research and writing my father did in the in the library," he said. "Gretchen was a fifth grade teacher, and the Children's Literature Reading Area was a way to honor her and to recall my own experience as a child. The appreciation of books and the importance of reading is something that has always been of great significance to me."
Dr. Hill recently approved the transferal of his Eldon and Mary Hill endowment to name and revitalize the Eldon and Mary Hill Honors and Academic Scholars Reading Room, a space designated for high achieving Miami students. He recognized the change as necessary to meeting evolving Libraries' needs.
"I'm pleased that the Miami Libraries continue to adapt and remain a vital part of the university," Hill said. "The Libraries' leadership felt the endowment could have a broader impact by supporting a dedicated space for high achieving students, and it felt like a fitting continuation of my parents' legacy."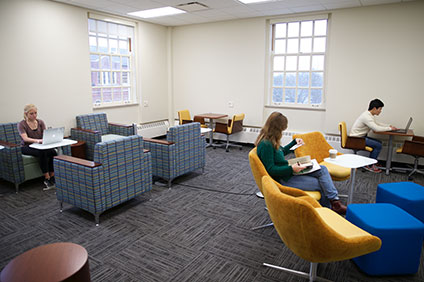 In reflecting on his own experiences and the valued role he still sees libraries playing in society, Hill encourages other alumni and friends to consider supporting the Miami University Libraries.
"As a youngster, I thought the library was a place where books were stored, loaned and read. Now it's truly a center of scholarly activity which involves a lot more than just the print media," Dr. Hill said.
"New technologies and activities have changed both the appearance and the mission of the library. The Miami Libraries have done a great job staying abreast of technology while still serving as a repository for the legacies of the past. I don't think an institution of higher learning can excel without promoting and maintaining a really superb library."
The Eldon & Mary Hill Academic Scholars Reading Room on King Library's second floor.