Milestones offer moments of pause, during which we are able to look back upon the paths we have traveled and ahead toward the future we will choose.
Welcome to the Miami University Libraries' Illuminant & 2016 Annual Report. We are grateful for your interest in and support of the University Libraries, and I am excited to share the achievements of the year gone by while offering a glimpse at a defining year ahead.
King Library – our flagship library – celebrated its 50-year anniversary last November, providing one of those moments in which to celebrate, reflect and imagine. While King Library's presence represents only about one-quarter of the Miami Libraries' total lifespan, its story is of a transformational period in our history.
When King Library opened in 1966, it changed the student experience. No longer were our university's volumes hidden from view in closed stacks. They were in the open, to be browsed and consumed. No longer was the library a rigid academic environment with wooden chairs. The new King Library offered comfortable seating and carpet, encouraging students to feel at home and build community.
That was just the beginning.
I arrived at Miami as a resident minority librarian in 1992, just two years after the Libraries introduced their first computerized catalog. Within five years, King Library was home to two computer labs, and you could browse its collections on the web.
We have gone from endless rows of book stacks to nearly 500 online databases, accessible to students studying anywhere in the world. The "pop cop" patrols are now just a memory, and King Café now serves more than 76,000 coffees and espressos a year.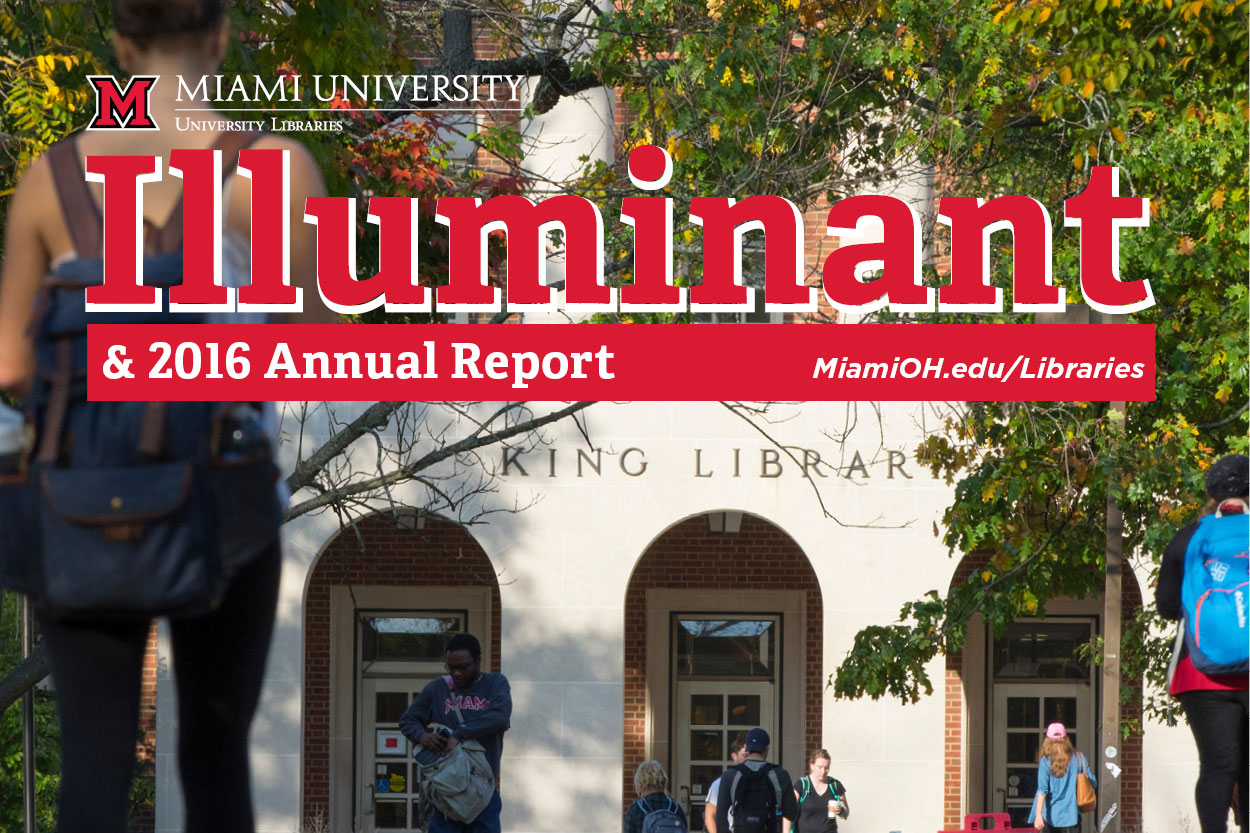 Increasingly, we support our students by welcoming campus partnerships. The Roger and Joyce Howe Center for Writing Excellence and Office of Research for Undergraduates both find their homes in King Library. This spring, we welcome a new eSports Arena supporting Miami's nationally ranked gaming program.
Technology and unprecedented access to information have changed the world, and we continue to evolve with that change. President Gregory Crawford said it well last fall, "The Libraries have to be the first to see the future ... to anticipate the needs of our students and faculty when it comes to research and instruction."
As we celebrate a rich history, we look forward to how the University Libraries will touch the student experience for the next 50 years. I am excited to announce the start of a master planning phase, explained on the following page, which is helping us shape that vision.
This Illuminant celebrates a milestone and all the accomplishments that come with 50 years. It also glimpses a promising future ahead – a future you help us build.
- Jerome U. Conley, Dean & University Librarian