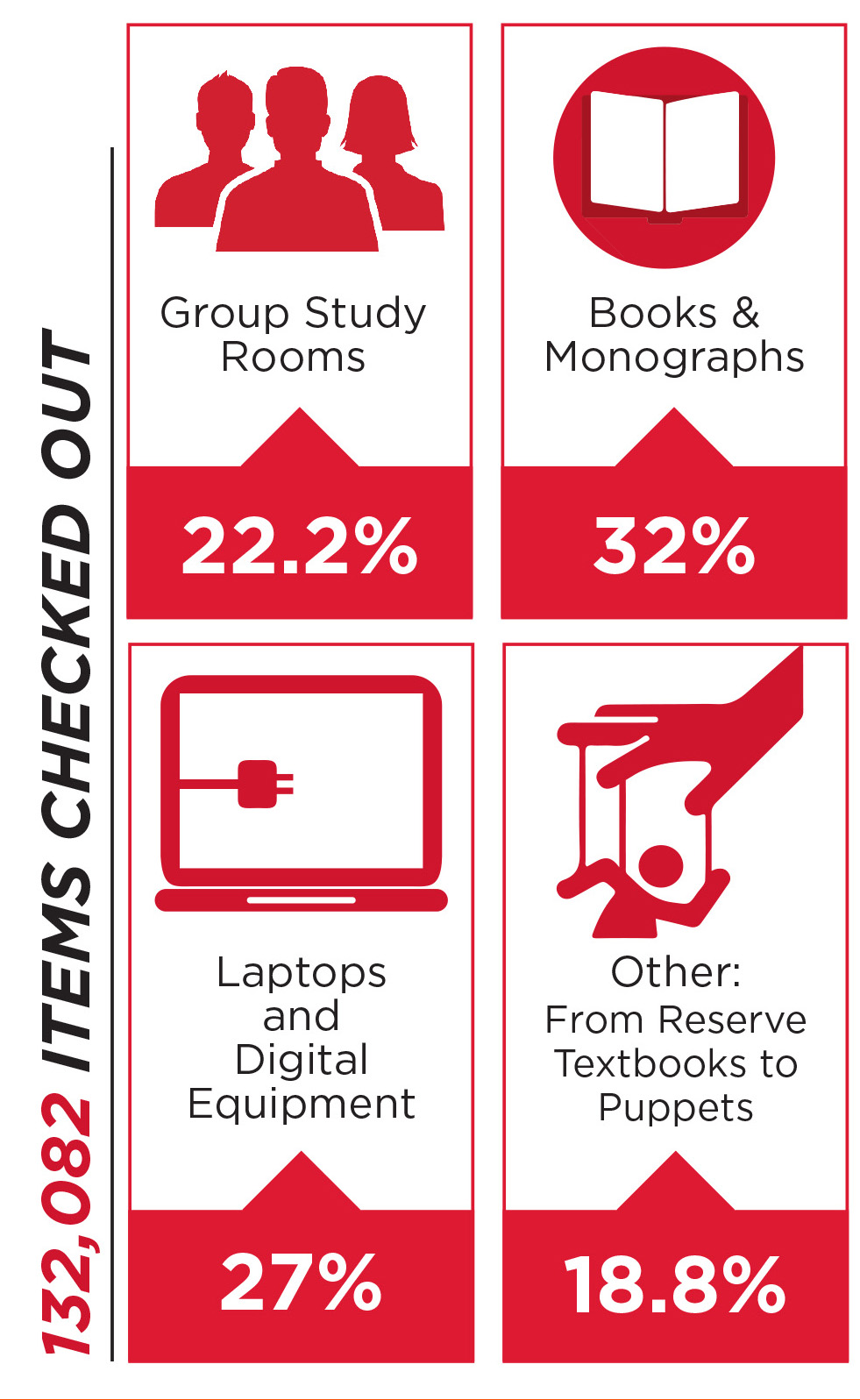 Checked Out
132,082 - Items checked out
32% - Books/monographs
27% - Laptops and digital equipment
22.2% - Group study rooms
18.8% - Other: From textbooks on reserve to puppets

Going Digital
497 online databases – accessible through the Libraries' website 24/7, worldwide.
102,596 – Searches conducted in Academic Search Complete, the most popular online database
7,748 – Full text views for Congressional Quarterly (CQ) Researcher, the most popular Miami eJournal.
4,421 – Chapter uses for "Biomaterials Science," an online textbook that is the most viewed eBook at Miami.
History in the digital age …
21 - Number of Havighurst Special Collections and archives digital collections scanned and made publicly available via the Libraries' website.
3,868 – Past editions of the Miami Student, dating back to 1867, scanned and made available online through the University Archives' digital collections.
16,915 – Postcards scanned and made available through the Bowden Online Postcard Collection.
Going the distance for our researchers …
2.84 days – Average time from request to receipt, including weekends and holidays, for student and faculty to receive materials requested through Interlibrary Loan.
9,524 miles – The distance one scholarly publication traveled from Monash University in Melbourne, Australia, to King Library to fulfill a patron research request.
841 – Number of faculty/student book requests fulfilled through OhioLINK in 2017.
Borrowing textbooks …
89 - Number of textbooks on reserve currently offered by the Libraries that have received more than 100 checkouts over the past year.
$259.60 – List price of the BIO 115/116 textbook that ranked as the most borrowed textbook in the Libraries in 2017 with nearly 600 checkouts.
60.9 - Number of new textbooks, at an average cost of $120, the Libraries can purchase through money raised for textbooks on reserve during #MoveInMiami 2017.
Other facts …
360 – Number of instructional sessions led by University Libraries staff in 2017, reaching 9,044 students.
6.0% - Percentage of Libraries' square footage now devoted to partners like the Howe Center for Writing Excellence, Office of Research for Undergraduates and AIMS.
1 – Marriage proposals in a King Library group study room in 2017.