Despite all the changes you see in libraries today, the heart remains the same. We serve those who hunger for knowledge. We create access to resources that not all can afford. We offer community that welcomes and includes.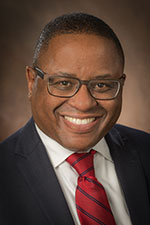 Welcome to the Miami University Libraries' Illuminant & Annual Update. The audience for this publication ranges from those who have served our Libraries as staff and student employees to those who advocate and invest in our future to those who simply hold fond memories of their time in our library locations.
As you will learn in the pages that follow, the University Libraries remain integral to our university's future, and those who believe in the power of libraries have never been more important. We appreciate the opportunity to keep you informed.
In the midst of celebrating 50 years of King Library last year, we embarked on the journey to imagine the future. Over the course of six months, our Libraries team and members of the university community came together with two consultants – brightspot strategy and Perkins + Will architecture and design firm – to reinvigorate our Libraries through services, organization and facilities.
Our purpose was to envision the future and the valuable role our Libraries will play in helping Miami graduate difference makers, who will live inspiring lives and change the world around them.
That means being nimble and responsive to the rapidly changing needs of our community. It means being ready with the services, tools and resources our students and faculty need before they know they need them. It means being efficient in our operations but also creating an innovative, challenging environment for our team.
At its core, though, it remains about creating access to the knowledge and tools that promote discovery and creation. About ensuring, as affordability issues in higher education grow in prominence, that ALL students have what they need to thrive. And about providing a place for our community to find a quiet moment, engage a classmate in weighty conversation, or come together and innovate as a group.
Within this edition, you will learn about our vision for the future. I particularly hope you enjoy the breathtaking artist's renderings of what King Library can be, made accessible for the first time through our new Envisioning the Future webpage.
You will also learn about the power of preserving history and how a nearly 80-year old letter found in our archives allowed for a past wrong to be righted and the amazing story of Jerry Williams '39 to be revealed.
Great things are happening at the Miami University Libraries. I hope you will find an opportunity soon, perhaps during Alumni Weekend this June, to come for a visit and see for yourself.
- Jerome U. Conley, Dean & University Librarian